Tax Department Organizational Charts & Job Descriptions
Thank you for your interest in our job description library. Whether you are evaluating your staffing needs or writing a job description for a specific tax position, you will find useful, real-life information for tax positions at corporate in-house Tax Departments.
The job description library provides Tax Department organizational charts and specific, detailed job descriptions that can be tailored to your company's specific needs for four categories of companies based on revenue size, from under $1 Billion to over $20 Billion.
This feature of TaxTalent is available at no-cost to our employer members. If you are an employer member,
please login
to access the job description library.
If you are not an employer member, it is FREE to join. Just
click here
and fill out a short form. You'll have instant access to the job description library.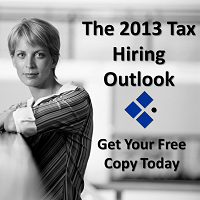 Filled our International Tax Manager position with a candidate from TaxTalent.com


Kristina Haines
Senior Recruiter
QVC, Inc.