Advertising / Sponsorship
| | | |
| --- | --- | --- |
| | As a TaxTalent Sponsor you have an unparalleled opportunity to reach out to a highly targeted audience of tax professionals through our micro niche site. | |
Why You Should Advertise On TaxTalent
TaxTalent is a content rich site focused on serving the tax community. Our audience is tax professionals at the Executive, Management and Staff level in Corporations, Public Accounting Firms, Law Firms, and includes Government, Education, Consulting Firms, Students, Interns and the Self Employed.
Whatever tax-targeted audience you need to hit - for any product, service, or career opportunity - TaxTalent helps you hit the Bull's-Eye!
Run of Site - Your banner(s) will be viewed throughout the site.
Sponsored Pages - Focused sponsorships for target marketing.
Home Page
Resume Database Search
Employers and Sponsors Section
Salary Comparative
Job Board
Career Forum
Diversity Forum
Tax Training Events
Graduate Tax Programs
Tax Pro Links
Relocation Links

We offer the following display options:
Top Banner Size 468x60 pixels
Side Banner Sizes 120x240, 125x125, 120x90, 120x60 and 120x40 pixels
Run Of Site - Your banner(s) rotate with others throughout the TaxTalent site. This gives you broad exposure to tax professionals - no matter where they visit.
Sponsored Pages - Your banner(s) are placed on specific pages, announcing you're sponsoring of that section and/or focusing your exposure to specific audiences. Examples:
You have multiple job openings within your organization - sponsor the Job Board;
You offer a training event or online tax training - sponsor the Tax Training Events;
You want to attract fresh graduates to your organization - sponsor the Graduate Tax Programs;
You have a tax software program - sponsor part of the Tax Pro Links.
Sponsored Emails - Have your product or service proactively marketed to our membership pool. We can focus your exposure geographically, by technical specialty, title level or to the entire membership. This can include html graphics and links to pages you specify.
To inquire about Sponsorship opportunities, Click Here or contact:
Linda Montesano
TaxTalent, Inc.
v 843-216-7444
f 843-216-7799
linda@taxtalent.com
We honor 15% commissions for site banner advertising placed by, and invoiced to, your advertising agency.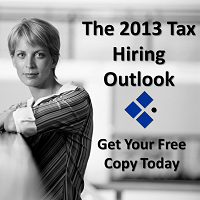 Tax Senior - International Tax Compliance
Supervisor-International Tax Compliance
Tax Analyst - Federal Compliance
Tax Senior - Federal Tax Compliance
Supervisor-Federal Tax Compliance
Tax Analyst - International Compliance
Manager, International Tax Compliance
Indirect Tax Analyst
Manager, Federal Tax Compliance
Federal Tax Compliance Leader