For Tax Pros
Companies come to our site because they value top Tax talent - find your next career step here!
Set up to three automatic Tax Job Agents and let the job marketplace come to you.
Openly or confidentially make prospective employers aware of your potential and availability.
A confidential mentoring program to help you reach your tax career goals. Search for a seasoned Tax Pro Mentor or become one yourself.
The Tax profession's best salary comparison. No assumptions here - match your paycheck with your colleagues' based on solid, current industry data.
Get/give feedback to any Tax specific career related question. Check out our
Diversity Forum
too!
TaxTalent's publications and reports provide valuable insight into current trends in tax.
Read them here!
For Tax Employers
A SAMPLE OF POSITIONS CLIENTS HAVE POSTED ON OUR JOB BOARD:


Vice President
Director Of Tax
Senior Tax Manager
Tax Manager
Tax Attorney/Counsel
Senior Tax Accountant/Analys


Tax Accountant/Staff
Accounting & Compliance
Contract or Temporary Tax Consultant
Transfer Pricing
Legal & Audit
Research & Planning


Federal Tax
State and Local Tax
Multistate Tax
International Tax
Foreign Tax
Expatriate Tax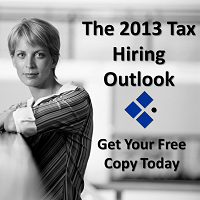 Tax Senior - International Tax Compliance
Supervisor-International Tax Compliance
Tax Analyst - Federal Compliance
Tax Senior - Federal Tax Compliance
Supervisor-Federal Tax Compliance
Tax Analyst - International Compliance
Manager, International Tax Compliance
Indirect Tax Analyst
Manager, Federal Tax Compliance
Federal Tax Compliance Leader