Resume Manager
Use our Resume Builder to create and post your resume to our database!
You can create different resumes (up to three) to apply for different types of positions.
In combination with our Job Agents, it's simply the best way to find positions which are right for you.
Resume Builder is quick and easy to use.
Input includes:
Personal contact data (keep this confidential if you wish)
Career Moves
Education and certifications
Geographical preferences
Ideal company types and job types
Affiliations
References (personal and professional)
Any other information...
Take a few moments to join TaxTalent.com and use the TaxTalent Resume Builder to help you find your next career move. Click here to join.
* John Sumser - Electronic Recruiting Expert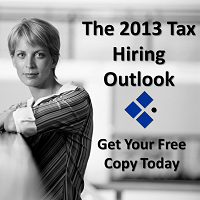 She did more in one day than my prior temp did in 2 weeks.


Melody Gritton
Assistant Tax Director
Gen - Probe