Frequently Asked Questions
TaxTalent is not a recruiting firm, but rather a unique, online career management resource website developed exclusively for tax professionals.

Our mission is to provide useful, unbiased, effective services and resources to help you better manage your career as a tax professional.

This is your website - to assist you to develop your career and achieve your career goals.
Until now, there hasn't been a website for the tax professional to get impartial, objective career management advice and assistance.

We provide a comprehensive collection of services and resources to help you enhance your career and achieve your goals.
We will not disclose personal information about you to any third party, without your consent -
ever
.
Members sign in with a password. Our server then sets a cookie so you can go directly to your home page without logging in each time. You may also sign out at any time.
TaxTalent.com owns, operates and maintains its own systems, software, and hardware. We do not outsource any operations.
We use SSL encryption - your browser must support it - to protect your password and transmissions across the Internet.
Your access and use of TaxTalent.com is secure, private and remains totally confidential. For more information, see our
Privacy Policy
.
When you post your resume on the TaxTalent website, you can choose to make it confidential.

If you choose to make it confidential, when an employer selects your resume they will not see any contact information for you - nor will they see your current employer.

Should that employer want to approach you and make contact, you will receive a confidential notice from that employer through our email system telling you about their open position. At that point you can choose to release your contact information to the prospective employer - you have the option to accept or reject their offer of contact.
TaxTalent.com's revenue comes from page sponsorships and fees paid by employers who use our services.

Each sponsor and employer accepts the TaxTalent.com unconditional guarantee of confidentiality.
In the upper right corner you will see the Sign In box - simply click the "Forgot Password" link and follow the instructions.
The Job Agent matches opportunities to your profile and interests. It then notifies you when a position fits your requirements. You decide whether to respond.

If you decide to investigate further, you can communicate with the potential employer directly.

If you have chosen to make your resume confidential, all communications are routed through the TaxTalent.com system, so you cannot be traced via email.

You will also have company information provided along, with links for more due diligence.
So that when we update the site, we can let you know.

If you use a Job Agent or post a resume, we notify you of positions matching your profile and interests via email.

TaxTalent.com also lets you control incoming mail. As a Member you can choose not to be told when new services are added and you can modify your resume/profile to increase or decrease the number of email alerts you receive.

If your email address changes, go to Change Info page (which can be accessed from the footer of any page) to notify us of your new address.
NO. Not under any circumstances.
As a
Member
, one or two per quarter. We will only notify you when we launch new programs, update services or have an announcement that could impact your career.
In addition to your member emails:
If you choose to have notifications of Tax Training Events, you get to choose the frequency and number of emails.
If you create a Job Agent, you will receive messages alerting you to new positions which meet your preferences.
If you post a Resume, you will receive reminder messages that are sent every 30 days. This is to ensure that you still want to be contacted by Employers who are searching the Resume Database and provides you the opportunity to update your resume and contact information.
You can change your membership by clicking the Change Info link at the footer of each page.

To unsubscribe and delete your membership send an email to info@taxtalent.com.
Yes.

We use cookies to store and track information about site visitors.

Cookies are small files that your Web browser places on your computer's hard drive. Cookies allow us to deliver content specific to your interests and save your password so you don't have to re-enter it for each visit to the site.

Cookies do not identify site users, just a user's computer and are used on many websites. You have the option of setting your browser to reject cookies. However, doing this will hinder performance and diminish your experience on our site.
Click the Change Info link at the foot of any page.

To make changes to your resume, click the resume link on the left navigation bar.
We allow prospective employers to view a "mini profile" of resumes to assist them in choosing people they would like to contact. When employers make their selections they are given full access to the chosen resumes.

You can choose to make your resume confidential. This hides your contact information and current employer. Confidential resumes allow contact only through the TaxTalent.com email system, avoiding direct contact with a potential employer.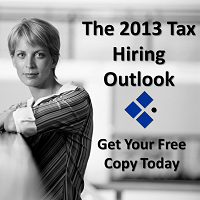 Able to turn around our request with an accurate and detailed response.


Michael Gaffney
Deputy Director - Global Tax
Merrill Lynch