Welcome!
The
Diversity Area
of the TaxTalent.com website is the result of a collaboration between TaxTalent.com and a host of successful minority tax specialists in the accounting and legal fields.
What is the
Diversity Area
?
It comprises four discrete yet related sections:
The Diversity Forum, a discussion board exclusively for minority Tax Professionals, to discuss issues unique to them;
A selection of Diversity Articles, exclusive to TaxTalent.com, covering issues relevant to minority Tax Professionals;
The Diversity Mentor Program, where you can find a mentor - or become one; and
The Diversity Advisory Board, which provides brief biographies of its members.
Our objective with this area of the site is simple yet powerful -
To increase the number of individuals from under represented groups who choose to pursue a career in taxation.
How will we achieve this goal?
By fostering links between minority tax specialists, providing a platform to candidly give and receive advice on issues unique to this group;
By providing an arena for specific topics to be presented and discussed;
By helping minority undergraduates be more aware of the unique opportunities that the tax profession can offer.
Diversity Links:
DIVERSITY FORUM
DIVERSITY ARTICLES
DIVERSITY MENTOR PROGRAM
MEET OUR DIVERSITY ADVISORY BOARD MEMBERS
If you have an interest in or suggestion for the Diversity Area, contact:
Linda Montesano
TaxTalent.com, Inc.
2205 Middle Street, Suite 207
Sullivan's Island, SC 29482-9764 USA
linda@taxtalent.com
v 843.883.0100
f 843.883.5200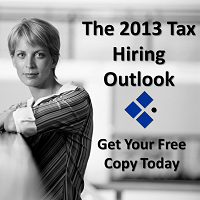 Senior Sales & Use Tax Audit Advisor
Supervisor Federal Controversy
Senior Manager Federal Controversy
Senior Tax Analyst
Senior Analyst Income Tax Provision
Federal Tax Manager
Manager, Federal/State Tax Compliance & Accounting
Principal Tax Accountant-State Income Tax
Senior Tax Analyst
Tax Consultant Senior